Achieve is a licensed day training and habilitation (DT&H) program serving adults with developmental disabilities. Achieve works to help participants:
Develop and maintain life skills
Participate in the community
Engage in proactive and satisfying activities of their own choosing.
Find and maintain competitive, meaningful employment.
Achieve's philosophy is that everyone is an individual who wants services that are created specifically to meet his or her strengths and needs. With that in mind, our services fall into certain groups or categories. These include work in the community, work in our production area, community skills (non-work), career preparation, and other life skills such as communication, motor, behavior and social skills.
Community-Based Employment
More than half of Achieve participants work at paying jobs in the community. Participants prepare for their jobs though a combination of in-house and on-site training and supervision.
Some participants work in the community with the help of a job coach. A job coach accompanies participants to the job and provides training so that they can become independent in completing the tasks at the job site.
A job coach may work with an individual or a group of workers. Sometimes a job coach accompanies workers every day, other times the job coach may provide training on an intermittent schedule – for instance twice a week. In some situations the job coach will be placed with workers on a permanent basis. In other situations, the job coach's presence will be faded over time so that a worker or group of workers is eventually working independently at a community job site.
Achieve Supported Employment Services (SES) is a programming option for participants who desire to work independently at a community job site.
Some of the community businesses that employ Achieve participants include:
Holiday Station Stores
Remax
Forslund Welding
Anoka County Government Center
Blaine Human Service Center
Medtronic
ABRA Auto Body
Custom One
Click here to view more of our current business partners.
For more information about Community Employment at Achieve, contact Pete Schlichtmann: 763-717-7840 or email to pschlichtmann@achieveservices.org
Production Area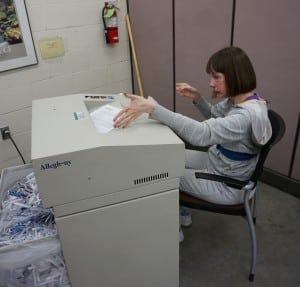 Achieve participants have the opportunity, and are encouraged to, work and earn a paycheck. On average, 50 percent of participants are successfully employed at jobs in the community. Achieve also offers another work option for participants. One of the services offered at the Achieve center in Blaine includes the opportunity for participants to work at Achieve's in-house production area.
Achieve's production area provides benefits to participants in a number of ways:
Some participants do not desire to work in the community, or they may be working on building skills to prepare for community employment. Achieve's production area gives participants the opportunity to complete real work for pay while increasing various work skills.
Participants working in the community may not work there full-time. Achieve's production area provides another means for these participants to work and earn money.
The production area serves as an employment safety net for participants who are looking for a community job, or who are in between jobs.
While working in Achieve's production area, participants complete subcontract production work for pay. Typically, production work involves assembly, packaging and preparing products. This work is done for a variety of community businesses that contract with Achieve to have this work done.
For more information about production work done at Achieve, contact our main line: 763-783-4909
Life Skills and Other Individualized Training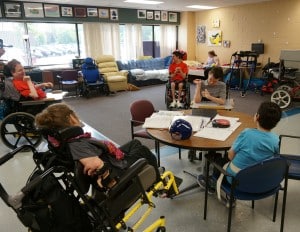 Achieve provides individualized training in a variety of skills areas to help participants increase independence and active participation in daily life. Each participant has an individual plan that outlines the training goals for that participant.
Communication Skills: Communication training includes:
Use of assistive technology and augmentive devices
Instruction in appropriate voice volume
Enunciation and speaking clearly
Skills to have basic needs met
When possible, communication skills are practiced and taught in their natural environment, and within a community setting.
Personal Living Skills: Training to increase personal living skills includes:
Safety
Hygiene
Eating skills
Independence with personal needs and more.
Adaptive Behavior: Achieve takes a positive approach when assisting participants to increase adaptive behaviors (and decrease negative ones). This may include:
Developing relaxation skills
Learning to respond effectively to a stressful situation
Replacing negative behaviors with positive ones
Learning to communicate when frustrated or upset
Vocational Skills: Participants receive training and instruction that helps them become more independent in completing jobs. This may happen in the community or in our own production area, where participants complete real work for real pay – earning while they learn.
Community Participation: Learning to actively participate in the community is key to increasing ones independence. Community training could include any skill that helps a participant be more independent while out in the community. Examples include: learning to handle money, street safety, ordering at a restaurant, using public transportation, appropriate social behaviors with strangers and more.
Social Skills: Whether in the community or just at home with family members, social skills are an important part of every day. At Achieve we work to build social skills so that participants are more likely to develop friendships and positive relationships with co-workers.
Specialists on Staff
Achieve employs a number of staff who are specialists in their particular fields. Specialists can provide insight and knowledge into a specific area of programming.
Certified Occupational Therapy Assistant (COTA)
Achieve has an occupational therapy assistant on staff. Occupational therapy focuses on motor skills and sensory experiences. Motor skills can involve large muscle groups (like walking) or fine motor tasks (such as moving the hands and fingers to complete a work task).
Sensory therapy may involve massage, stimulation of pressure points, aromatherapy, auditory therapy and other activities that engage the senses to aid a participant during his or her day.
Occupational therapy may be done individually or in a group setting. Because Achieve's therapists are part of our staff, there is no need to bill to health care insurance or Medical Assistance for these services.
Behavior Specialist
Sometimes unwanted behaviors can keep a person from being successful at a job or within a community setting. These behaviors may occur because a person does not have the skills to communicate how they feel or they may occur because the person does not understand that they are inappropriate in a particular setting.
Achieve has a behavior specialist on staff to look at individual behaviors and situations and determine the best, most positive and consistent approach to addressing unwanted behavioral issues.
Nursing Care
A registered nurse serves as advisor to Achieve staff on any illness or health concerns of participants. The nurse also supervises medication administration.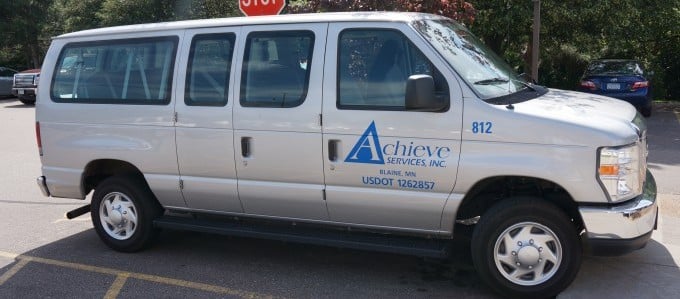 Transportation
Transporation to and from the program and community job sites is a part of Achieve's basic program service.
Achieve operates multiple buses with wheelchair lifts as well as multiple vans and cars. These vehicles get participants to and from work each day. Our vehicles make designated stops at passengers' homes. Drivers are Achieve employees who receive the same training as our program staff.
Public Transportation
If participants are independent and do not require assistance at pick up and drop off, they may elect to use public transportation, such as the Metro Transit bus service or the Anoka County Traveler to travel to and from work or to access the community for outings and leisure activities.
Self-Advocacy and Individualized Plan
Achieve serves individuals. We realize that each person is unique, with specific wants and needs for his or her own programming and we want your input and feedback about the services we provide to you. We ask that you take time to think about what goals and plans you would like to accomplish in the future and how your work with Achieve can help you move in the right direction. You can talk this over with family members as well. They may have some ideas that you hadn't thought about.
When you come to Achieve, you will have an admissions meeting. This is the time to discuss your goals. The members of your support team will attend your admissions meeting. This includes:
You
Members of your family
Your guardian (if you have one)
Your county case manager
Achieve staff
Therapists or others who work with you
School staff (if you are still in school or recently graduated)
Residential staff
Others you choose to invite
At your admission meeting, the support team will discuss your goals for the future and create your Individual Plan. Your team will continue to meet at least once per year, but often teams will choose to meet more frequently to discuss how things are going with your goals and any changes you want to make with your individualized plan.