Q. What is Achieve?
A. Achieve is a State of Minnesota licensed Day Training and Habilitation (DT&H) program that provides employment and training to adults with developmental disabilities or related conditions.
Q. Where is Achieve located?
A. The main office for Achieve is located at the Blaine Human Service Center of Anoka County at 1201 89th Ave. NE, Suite 105, Blaine, MN 55434.
Q. When is Achieve open?
A. Achieve provides program services Monday through Friday from approximately 8:00 a.m. until 3:15 p.m.
Q. Will I get any days off?
A. Achieve is closed on national holidays. Participants do not come to work on those days.
Q. What programs and services does Achieve offer?
A. Achieve offers supportive employment, transportation, personal and social support, occupational therapy, nursing care, behavioral support, and individualized training.
Q. What is the admission policy for Achieve?
A. The requirements for admission to Achieve are: the applicant must be 18 years of age or older, have a diagnosis of a developmental disability or a related condition, be eligible to receive training and habilitation services according to Minnesota Statute 245D and is not the financial responsibility of another agency (such as an educational or rehabilitation agency).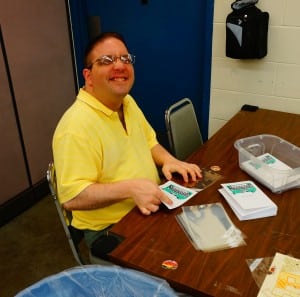 Q. How many individuals does Achieve serve?
A. On average, there are 180 participants in the Achieve program. As part of their program services, more than half of them work in the community.
Q. How many staff support the programs and services of Achieve?
A. Achieve averages 60 full-time staff. Achieve complies with the staff-to-participant ratios required for serving persons with disabilities. For example, some services require supervision at a ratio of one staff to eight participants; other services require a ratio of one staff to three participants.
Q. What is production work?
A. In our production room, participants assemble, package and prepare products for community businesses.
Q. Will I get paid?
A. Yes. Participants are paid for the work they complete at Achieve. In the production room this is calculated by the number of pieces of work that you do.  Community jobs are paid an hourly rate. Paychecks are issued every two weeks.
Q. Can participants earn wages by working in the community?
A. Yes. Community Based Services are jobs in which participants, independently or with assistance from Achieve staff, are employed by a business in the community.
Q. How many Achieve participants are involved in community based services?
A. Currently 50 percent of our participants work at community based employment in area businesses. Participants who don't work in the community have opportunities to interact within the community through outings to a variety of locations.
Q. What businesses work with Achieve?
A. Achieve is proud to have these local businesses as employers of its participants: Holiday Station Stores (11 locations), Anoka County Government Center, Blaine Human Service Center, ABRA Auto Body in Fridley, University of Minnesota Recycling Center, Medtronic (3 locations), Remax, Snap Construction, Custom One Painting, Forslund Welding, Banfille Locke, Edward Jones, MetroNorth Chamber of Commerce, and the City of Anoka.
Q. How can you start with Achieve?
A. By filling out an application for admission. In addition, we recommend that the applicant and family arrange for a tour so they know what is available through our program. To set up a tour, call Achieve: 763-783-4909 or e-mail us.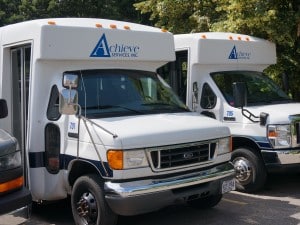 Q. Is transportation available?
A. Achieve transports over 150 clients daily to and from the center and also to work. The agency uses wheelchair lift vehicles and vans to transport and Achieve employs drivers and bus attendants. People who are more independent use public transportation such as the Anoka County Traveler or the Metro Transit bus. We also have people who choose to get to work by other means, such as driving themselves or being driven by family members.
Q. Who pays for services at Achieve?
A. For residents in family homes or foster care who do not have a waiver, the County of responsibility pays for services. For others, Medical Assistance (Medicaid) is billed at the general program rate on their behalf.
Q. What if I need to take medications while at Achieve?
A. Achieve staff are certified to give you your medications.
Q. How do I get more information about Achieve?
A. Call the Achieve office at 763-783-4909. Achieve office telephones are answered from 6:30 a.m. to 4:30 p.m., Monday – Friday. During weekends, or during non-office hours, please leave a message and someone will get back to you.
Q. Where can I find more information about DT&H services?
A. You can visit the Minnesota Department of Human Services website Day Training and Habilitation page.