We are a day training and habilitation program serving adults with developmental disabilities. By focusing on abilities, not disabilities, we strive to increase the independence and quality of life for all individuals in our program.
We provide work and training in other life areas to help us meet this goal. Our employment services include community-based jobs as well as work completed for pay in our own in-house workshop. Based on individual needs, participants may receive help and training in other areas such as communication, social skills, behavioral skills and motor skills.
Mission Statement
By creating innovative opportunities that inspire people with disabilities, Achieve will enable every participant to lead a meaningful and self-determined life.
Core Values
ENRICHMENT – We are committed to enhancing lives through achievement and honoring the worth, abilities, and contributions of each individual.
EMPOWERMENT – We honor personal choice, and invest in every individual's right to cultivate and contribute their talents in ways that enrich themselves and society.
INNOVATION – We continuously seek new and better solutions to meet the needs of participants, staff, and employers in ways that make lasting improvements.
INTEGRITY – In all that we do we are open, honest, and respectful, and we follow through on our commitments.
Video Overview
History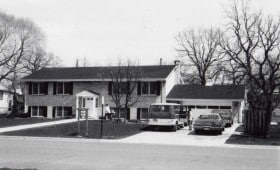 Achieve has been providing services in Anoka County since 1964 when the Anoka County Daytime Activity Center opened at St. Phillips Lutheran Church in Fridley to serve 17 children with developmental disabilities.
At that time, many adults with developmental disabilities still resided in state institutions and schools did not yet serve children with disabilities. In 1972, a new center was built on Arthur Street in Fridley with a satellite program operating at the Trinity Episcopal Church in Anoka. The budget for the program at that time was $54,900.
By the mid-1970s, the downsizing of state institutions began and adults with developmental disabilities returned to their communities. This created a need for services and Anoka County expanded its program to create a day program for adults. In 1974, four adults were enrolled in the new program at the Resurrection Episcopal Church in Spring Lake Park.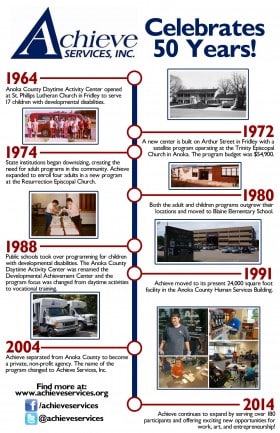 Both the children's and adult programs grew. In 1980, the combined programs moved to the Blaine Elementary School in Blaine. This continued until 1988, when the public school systems took over the day programming for children with developmental disabilities. By this time, the Anoka County Daytime Activity Center had been renamed and was now Achieve Developmental Achievement Center. It was also around this time that program's focus changed from daytime activities to vocational training and community-based programming.
In 1991, Achieve moved to its present 24,000 square foot facility – which was designed and built specifically for its programs – at 1201 89th Avenue in Blaine.
In 2004, Achieve separated from Anoka County to become a private, non-profit agency. The name of the program changed again – to Achieve Services Incorporated.
Currently, Achieve Services, Inc. serves about 170 individuals with a variety of abilities and desires. Nearly half (47 percent) work in the community. More than 25 community businesses work with Achieve – either by providing community employment or work for our inhouse workshop.
Achieve continues to look toward the future, focusing on new opportunities and striving to maintain the exceptional level of individual programs and services that we've come to be known for during the last 45 years.